February 16, 2018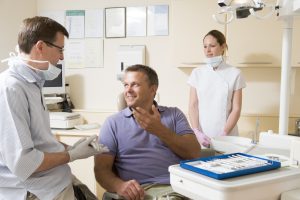 If you're a dentist who's still not offering oral appliance therapy for sleep apnea sufferers, we can almost assume medical insurance claims and billing are what's keeping you away from this revenue driver. We know that billing can be a hassle, and your team members are already overtaxed with dental insurance claims, adding medical insurance to the mix is just too much for your staff. You need time for your patients! We hear you. At Brady Billing, we make oral appliance therapy billing and insurance claims simple, so dentists and dental care teams can keep their focus where it belongs – on the patient.

Avoid Sending Patients to Other Offices
In the past, patients who were diagnosed with sleep apnea were given CPAP systems, and very few ever knew there was another option. Today, you likely have patients asking you about oral appliance therapy before they ever receive their sleep apnea diagnosis. Partly, this is because patients are more informed and have better access to information online. This is also due to the fact that there is generally increased patient awareness about the seriousness of sleep apnea and the necessity of treatment. When you have patients interested in a treatment, the last thing you want is to send them to your competitors. We all know that sending patients to a different general dental practice for one treatment is a slippery slope that can lead to you losing the patient for good.
Increase Your Revenue
In addition to keeping your patients in the practice, offering oral appliances may even bring you new patients. All those dentists who still don't want to deal with the hassle of medical insurance and billing will send new patients right to your door. Even if you only ever see them for their oral appliance needs, that's still a source of revenue you're currently turning away. Additionally, once you have a patient in the office for oral appliance therapy, you have an opportunity to show them why your patients trust you with all of their oral health and hygiene needs.
Let Brady Billing Help
Ready to get started offering oral appliances for your patients? Call Brady Billing to learn more about our services. Located in Frisco, TX, we're happy to help dentists across the country. Don't hesitate to give us a call to learn more about how Brady Billing can partner with your dental office team to make offering sleep apnea therapy for your patients easy. It's a service patients want, that you can offer, and we can handle all the hassle of billing and insurance claims. Let's get started today.
Comments Off

on Don't Let Billing Hassles Keep You from Offering Oral Appliances
No Comments
No comments yet.
RSS feed for comments on this post.
Sorry, the comment form is closed at this time.